About Onyi Anyado Media House (OAMH)
Onyi Anyado is a multiple award-winning Global Leadership Speaker, Entrepreneur, Business Coach and Author. From his message of cutting edge distinction, Onyi delivers workshops, talks & coaching sessions on educational, business & corporate platforms around the world training & coaching people how to become distinguished in their chosen field.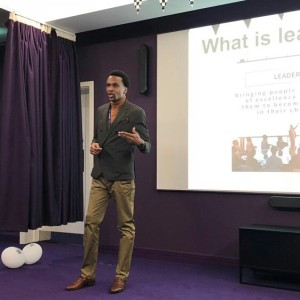 Through his talks, conferences, books, podcasts, guest articles, blogs and personal 'one on one' Business Coaching sessions, Onyi educates, empowers and equips people how and why they should become distinguished in their chosen field. His books, coaching sessions and talks have helped individuals from all walks of life, which include the CEO, employee, student and entrepreneur to lead with the baton of distinction. Onyi's teaching style not only appeals to all demographics, his easy to understand step by step approach transcends to every individual and corporate institution locally and globally.
Onyi's latest book titled; The Doorway to Distinction: 200 Quotes To Inspire You To Reach New Levels Of Excellence, can be ordered via Amazon Kindle, please use link below.
https://www.amazon.com/Doorway-Distinction-Quotes-Inspire-Excellence-ebook/dp/B01JND7NPE/ref=sr_1_1?s=digital-text&ie=UTF8&qid=1476906129&sr=1-1&keywords=The+doorway+to+distinction
On the 20th of Ocotber 2017, Onyi was bestowed with an award from the Nigerian Students' Union UK for; Exceptional leadership & commitment to the welfare & development of Nigerian students in the UK. Onyi received the award at the Nigerian High Commission in Central London after delivering his talk titled How to become a leader of distinction™.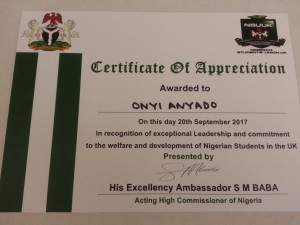 Onyi spoke at a TEDxYouth@Hackney event which is part of TED delivering a keynote titled; From Detention to Distinction. Speakers who have spoken on TED include Ex-President of America Bill Clinton and Sir Richard Branson.
A visionary is a leader of excellence who sees what others do not see, who achieves for now and plans for the future, who positively impacts different generations and raises up other visionaries. ~ Onyi Anyado.
Onyi has overcome statistical expectations and has moved from living the 'street life' which involved him nearly shot dead to becoming a person of distinction and a reference point of excellence to his family, friends, peers, community and generation. Often referred to as Mr. Distinction, Onyi has chosen to challenge not only his community but his generation to maximise their full potential, reach new levels of excellence and become a people of distinction.
Onyi is living proof that even if you were born in circumstances of negativity, ambition with desire, coupled with diligence, excellence and vision will mean a life of constantly breaking barriers and crossing lines.
If you require Onyi to deliver a talk or workshop at your institution, please send your full information to info@oamediahouse.com
Entrepreneur, creativity is your currency that should pay for the innovation of others. ~ Onyi Anyado.