Global Leadership Speaker
Onyi Anyado is a much sought after multiple award-winning Global Leadership Speaker who has the conviction, calling and commitment to influence, inspire and instruct people how to become distinguished in their chosen field.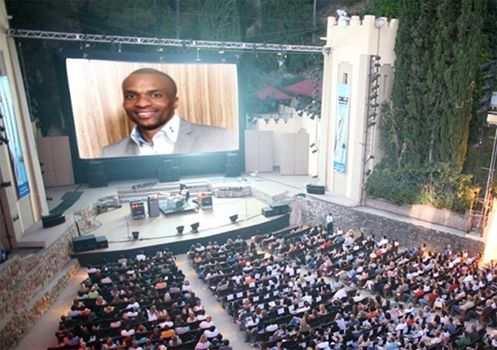 As an entrepreneur, I don't just read history, I create it so people can see the future in the present. ~ Onyi Anyado.
LEADERSHIP DEVELOPMENT
Leadership is bringing people into new realms of excellence and challenging them to become distinguished in their chosen field. ~ Onyi Anyado.

ENTREPRENEURSHIP
An entrepreneur is a leader of excellence, trailblazer and pioneer who constantly brings change to their generation. ~ Onyi Anyado.

YOUTH DEVELOPMENT 
My role as a role model is to teach my generation how to excel in the role of distinction. ~ Onyi Anyado.
Onyi has spoken on various platforms which include India, Malaysia, Barclays Bank, a youth conference in Canada and much more. Wherever Onyi goes, he speaks with an unquestionable, undeniable and uncommon passion which coupled with his principles produces purpose, possibilities, promotion and productivity. What distinguishes Onyi from other speakers is his originality, creativity and humility.
Onyi delivers the following talks and workshops presentations:
-How to become a leader of distinction™
-How to become an African leader of distinction™
-How to become a student of distinction™
-How to become an entrepreneur of distinction™
-How to become an African entrepreneur of distinction™
-What's your creative distinction?™
Onyi is available to speak on educational, corporate and business platforms nationally and internationally. To book Onyi to speak at your event, please send your full information to info@oamediahouse.com
Entrepreneur, to become distinguished, your thought leadership has to be fresh, forward thinking & fertile. ~ Onyi Anyado.
TESTIMONIALS 
Onyi delivered his talk titled How to become a leader of distinction™ to students and staff at Regent's University London and was outstanding. Onyi gave a passionate and inspiring insight into what leadership really means addressing all the fundamentals of distinction in leadership. We would be proud to recommend him and indeed to welcome him back for future opportunities. Thank you Onyi!
Emma Hopkin, BAM Administrator at Regent's University London.
In a webinar held for an audience in India, Onyi delivered How to become a leader of distinction™. From the word go and till the end of the webinar, Onyi made it an experience to remember. Onyi made his message so simple, easy and doable that to be honest, in 40 years of being in my industry, I haven't heard a speaker like him. I loved the way he took us through different aspects of leadership. I also liked the way he explained how to 'maximise time. Being a Leadership Coach myself, this webinar was of immense value. Onyi, you are the 'best'.
Major Avtar Singh, Executive Coach, NLP Trainer, CPP.
Onyi delivered his workshop; How to become a leader of distinction™ to our team at WayMaker Learning UK which was well received. Onyi delivers with excellence and the quality of his session and coaching are brilliant. I really look forward to working with Onyi again in the very near future. I have no hesitation to recommend Onyi to other organisations who are seeking growth for their brand, business or personal endeavours. Onyi, keep up the good work. 
Victor Sonde, Founder, WayMaker Learning UK.
Onyi was invited to speak to a group of postgraduate students at Cranfield University under a programme titled 'LEADERShift Forum 2016' which was organised by the Sola Adesola Foundation and Cranfield Pentecostal Assembly. Onyi delivered his speech; How to become a leader of distinction™. What was different about his talk was it wasn't like any other motivational speech. Onyi's style was relational, engaging and seasoned with his life experiences to bring a strong conviction in the minds of the audience. I personally like the emphasis on 'Dear Leader' which caused the audience to believe they are indeed leaders. I have never seen such a talk so convincing and influential.
Dr Sola Adesola, Campus Minister, Cranfield Pentecostal Assembly & Founder, Sola Adesola Foundation.  
Onyi's delivered his talk; How to become an entrepreneur of distinction™ for our young people at a 'Your Big Idea' event which is a start up funding competition for young entrepreneurs in Lambeth, South London. It was a very insightful talk with our budding entrepreneurs engaged throughout. We received excellent feedback and I would definitely recommend Onyi as a conference speaker if you want your guests to feel inspired. 
Zanderlee Hall, Marketing Assistant at Capita Group. 
On the 30th of November 2015, Onyi came to my college to deliver his talk; How to become a student of distinction™. He delivered his speech with great confidence and answered questions thrown at him with proper clarification. He mainly focused on the importance of having a five vision and how our vision is related with other skills such as; excellence, creativity and time management. He has greatly motivated me to think about my future. I have already started planning ahead after being inspired by his speech. His guidance will help me in the long run for sure. So, Onyi, thank you.
Chowdhury Asim Mahmud Bin Harun, student at DLD College London. 
On the 26th of November 2015, Onyi delivered his talk titled; How to become a student of distinction™ to 200 of our students at our annual Awards Evening. From the moment Onyi started speaking, it was clear that he had a message to be shared and he knew how to share it. Every single person at our event; parents and teachers and of course our pupils, were inspired by his words and left thinking about how they could improve as people. Onyi's speech was a perfect balance between recognising achievements and spurring our pupils on to the next stage of their lives and would be fitting for any school looking to emphasize this at an awards evening. Equally, he has given us much thought about bringing him back to speak to current students about maximising their time and becoming students of distinction.  Aaron Kay. Teacher, Sowerby Bridge High School.
I had the privilege of working with Onyi during a Life Skills event held at St. Chads school in Wolverhampton. Onyi was a breath of fresh air. His enthusiasm for teaching the young people a better way to look at interviewing and the importance of being prepared for their future really was inspiring. His openness and honest approach to life worked very well with breaking the ice with the young people and you could tell that they were soaking in every word. I really appreciated his hard work and dedication to the year 11 students and would definitely enjoy working with Onyi again in the future.
Keith McHenry. Business Manager, Barclays PLC
On the 4th June 2015, I had the pleasure of attending a workshop at the O2 Workshop in Tottenham Court Road hosted by Onyi Anyado titled, How to become an employee of distinction™. Onyi made a convincing case showing that distinguishing yourself through excellence is a key to becoming a successful employee.  Onyi eloquently conveyed the importance of 'personal branding', that is, the importance of branding ourselves through excellence to impact our environment and communities. This was a good 'eye-opener' and I believe this provided me and other delegates with inspiration to 'raise the bar' of excellence in our careers, in developing ourselves and in achieving our own goals.
It was an engaging and insightful presentation where I also learnt practical strategies on how to build my personal brand through excellence and how to develop my own personal (career/life) vision. The workshop delivery was sharp, witty and sincere, and I believe Onyi's presentation style helped to facilitate good chemistry amongst the delegates in attendance.
The workshop impact was powerful as it got you thinking about new possibilities for your career and life in general.  I think individuals of various backgrounds, ages and professions can benefit from the workshop and I would definitely recommend it to others.
Anna Taylor.
On the 4th of June 2015, I attended a workshop titled How to become an employee of distinction™ which was hosted by Onyi Anyado at the O2 Workshop in Tottenham Court Road in Central London. During his workshop, Onyi offered practical and realistic steps on how to become an employee of distinction. I put emphasis on the fact his advice was practical, realistic and easy to understand. His advice on having a clear and defined employee vision struck a chord with me and the way Onyi delivered his talk has really stuck with me. Onyi has a very friendly persona and easily and quickly builds rapport with his audience. I enjoyed his humorous yet professional delivery style and smiled countless times throughout his workshop.
Onyi, thank you for sharing your practical tips. For me, it was time well spent and I will be implementing all what I learnt. I wish you continued success.
Alexander Finn. Sytel Reply www.replyltd.co.uk
Our learners at East Kent College were inspired by an energetic, focused and inspirational keynote presentation from Onyi. The visions of our learners regarding business and career were taken to a new level with Onyi giving principles on how to become distinguished in their chosen field. Through Onyi's life story and teaching, our learners recognised that anyone can be successful with self-belief, passion, determination and also having a clear vision on what they want to become. Onyi's presentation gave belief to many of our learners who are from disadvantaged backgrounds that a real 'can do' attitude and being focused can mean them excelling in their studies.
Victoria Copp-Crawley: Head of Enterprise,  East Kent College; Peter Jones Enterprise Academy.
We would like to thank Onyi for being a guest speaker at our Presentation and Awards Evening on July 1st 2014. Onyi captivated our students with his story of how he overcame adversity in his early life to now being recognised as a man distinction and excellence. His career path is an inspiration to many and the positive feedback we received from our students showed that Onyi truly struck a chord with our young adults on how and why they should become distinguished for now and for the future.
Kim Abson: PA to Headteacher, St. Alban's Catholic High school; Ipswich.